7 best tricks to grow interest in maths for kids
Mathematics is like complex subject. Students learn best when they can apply what they learn to real-life situations. This can become difficult as math becomes more complex and difficult. As a result, many students find that they need to work harder and practice longer to understand more abstract math topics. Here are few tricks to grow interest in maths for kids.
 Another reason many people struggle with math is that it is a cumulative subject. After the foundation is laid, additional concepts are taught that build on that foundation, and these are used to understand increasingly complex concepts.  
  Another reason students despise mathematics is their lack of connection to mathematics concepts. The most difficult stage is to get students to operate the material after they have been introduced to the subject.  
Table of Contents
Tricks to grow interest

in maths
Encourage your child to use math everyday

 

Pay close attention to details

 

Track your child's math homework.

 

Read a book about mathematics 

 

Make math a daily activity 

 

Try to keep your learning standards up to date

 

Play math games at home

 

 
Abacus and Vedic maths

 

Mental maths Practice

 

Conclusion

 

FAQ's

 
Tricks to grow interest
in maths
 1.Encourage your child to use math every day. 
Mathematics can quickly become boring because it is often too abstract and irrelevant to your child's current situation. Everyone is passionate about their interests.

 

It's about taking advantage of young children's interests and making arithmetic relevant to them. Let your child do math in their daily life.

 

For example, if you buy apples at the grocery store, you can ask your child to calculate the price of 12 apples and give you a real-life example and a task to answer. 

 

When it comes to real-world problems, children understand the value and importance of mathematics and grow interest in maths.
2. Pay close attention to details. 
Review even a small amount of your work to understand concepts and grow interest in math skills.

 

Children sometimes do not understand the principles that help them solve simple problems, but they have problems with logical questions.

 

So, it's important to pay attention to how they solve problems, and how they check rough calculations, and speed is also an important factor in determining the clarity of an idea. 

 

For example, the Factoring Calculator helps you find GCF and step-by-step to see if you're solving it correctly, making sure you understand the concepts and know how well.
3.  Track your child's math homework.
Math homework is very important to keep your child up to date with school assignments.

 

Kids learn discipline with math homework, but many kids can't cope with schoolwork, so it's a good idea to find someone to help them with their homework. 

 

Try searching Google for math homework online.

 
You can find many websites that offer experts to complete your child's homework so that your child can learn at their own pace.
 4.
Read a book about mathematics 
More and more schools are beginning to incorporate different subject areas into their curricula so that students can make a clearer connection.

 

But how do you incorporate mathematics into your history or English lessons? One way is to read books where the protagonist uses mathematics and logic to solve problems.
5.Make math a daily activity
 Use mathematics in everyday life. To help your child get the most out of their math class, integrate math into their daily routine and set goals to achieve.  
How many blue cars can you see at the red light? 

 

How many cases of crackers can you buy if you only have $10 at the grocery store?

 
A child is left in the doctor's office waiting room when three people are called behind how many people If you only ate 1/4 of your lunch.

 

how much would you have left?

 

If diapers were 25% cheaper, how much would they cost? 

 

How many shirts do you put in the washing machine?  

 

If 4 people have divide 8 quarters at the arcade, how many quarters per person?

 
6.Try to keep your learning standards up to date.
The curriculum changes every year and what you studied years ago and what your child is studying now are two very different things. 

 

Learning patterns, styles, and formats have evolved and are getting better every day.

 

Keep up with these latest advances and use them in your daily lessons.
7.Play math games at home
Kids love to play games and they can find math fun playing math games. 

 

These activities will motivate your child to complete math homework and learn the value of math.
Abacus and Vedic maths
to grow interest in maths
Both the abacus and Vedic mathematics are very important in gaining an edge in understanding mathematics. Vedic mathematics is an excellent set of prescriptions for simplifying mathematics while contributing to the speed and accuracy of mathematics. On the other hand, the abacus is a convenient calculator that can give accurate estimates. These studies can take from six months to several years, depending on the student's learning ability.  
 Ideally, both concepts and tools are important. Because of this, choosing one of these may vary from person to person. These improve number skills, which in turn improves memory and performance. Mastery of Vedic mathematics and/or the abacus helps students to contemplate operations easily and accurately.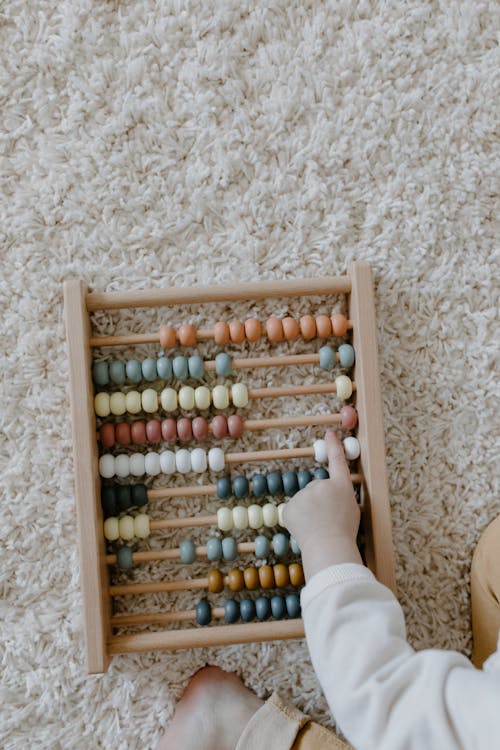 Mental maths practice
to grow interest in maths
Mental arithmetic is very similar to physical training. You may not feel well at first, but you can improve with diligent practice. You may not like the exercise at first, but you will reap great rewards for your efforts.

 
When you feel better, you can enjoy your activities more. If you're serious, your mental math skills can be a source of energy to meet life's challenges with enthusiasm. 

 

If computing devices are not available, you can also rely on mental arithmetic. Despite the conveniences of modern life, we sometimes do not have access to mobile phones and other powerful devices. 

 

The mind of mental arithmetic is always free to use.

 
Conclusion
Math tricks for kids are fun, engaging, and a great way to spark your child's interest in math. There are many math tricks to grow interest and you can use to improve your child's math skills. 
      Math tricks come in many forms such as mind games, puzzles, calculator tricks, mental tricks, speed calculation tricks, and more. It has also proven to be very efficient, reliable, and fast when it comes to solving math problems. It's also more interesting than traditional methods of solving mathematics. Math tricks are sure to amaze your kids. 
FAQ's
1.What information do you have about your child's math from previous teachers?  
Also, check your child's report card from last year to see what previous teachers wrote about learning math. please give me.  
2.Did your child's previous teacher accurately describe your child's math skills to the new teacher?  
If teachers overestimate or underestimate a child's math abilities, problems can arise later.  
Does your child's new teacher know all last year's math successes and math problems? 

 
Building on previous work (with some built-in modifications), your child will progress.  
4.Is there any other information I can provide as a parent? 
 If your child is scared of exams or doesn't yet know the multiplication table, let the teacher know.  
5.How much math homework do you have per week? 
 Knowing this will help you schedule extra math practice and tutoring. 
How are the math classes distributed during the week? 
Some days there are two math classes and some days there are none. Schedule some simple math practice on those "no math" days.  
Do you have regular mental arithmetic training?
 If so, it will be easier to encourage your child to practice basic skills.  
Are children taught throughout the class? 
If so, make sure your child has the time and confidence to ask for help if they do not understand the task. 
Are there different jobs for high and low-ability kids? 
Find out what jobs your child does and how teachers decide when to change job levels.  
What if my child finishes a class assignment early or fights to finish an assignment? 
Giving more of the same or less of the same will demotivate both high- and low-gifted children.